We've got three awesome slalom skis and they are on sale! Let's talk the 2022 Men's and Women's Carbon Omni and the Kid's Future Omni Slalom Skis. Shop clearance at shop.sunsportsmaine.com/clearance.
2022 HO 69" Men's Carbon Omni



The Carbon Omni is a shop favorite slalom ski. At 69", it'll accommodate skiers 200-250lbs who ski at speeds 30-36mph. The Omni is a crossover ski, meaning it can be ridden in and out of slalom ski courses. I would pull this ski down off the wall to any skier looking for an aggressive, fun, and fast ride. I would also pull it down off the wall for anyone who was looking for something they could grow with and improve on. The Omni has extra width in the shovel of the ski for added stability. It has a lot of tip rocker which will help the ski engage into a turn. The OMNI waterski is optimized for the skier who needs one ski to do everything.
Added carbon in the ski stiffens it and improves performance. The ski will better transfer energy from the boat to the skier and to the water. Clean edge technology stabilizes the tail of the ski and reduces drag. But that's not all. The Clean Edge technology is a huge selling feature that requires some extra explanation. 
Clean Edge Technology
The Omni Features HO's patented Clean Edge Technology. There are two ways that I like to describe clean edge technology to people. The first pertains to the feeling of sliding out from a turn or skidding around a buoy. Sometimes when you put enough pressure on a ski or you slam on your back foot in order to get the ski to come around a buoy, the tail will literally slide across the water. This is a common feeling amongst slalom skiers. In skis with a traditional vertical sidewall, that problem is inevitable. Clean edge technology locks in the tail so you carry speed more efficiently into and out from a turn. No more sliding, slowing town, and then accelerating. You just get consistent velocity. 
The second way I like to describe clean edge technology relates to snow skiing. Have you ever driven by a mountain after a fresh snow fall and seen the first tracks down a slope? Those tracks look symmetrical in the snow. That's what clean edge technology and the Omni series are designed to do. No more onside and offside turns. There are just turns and skiing.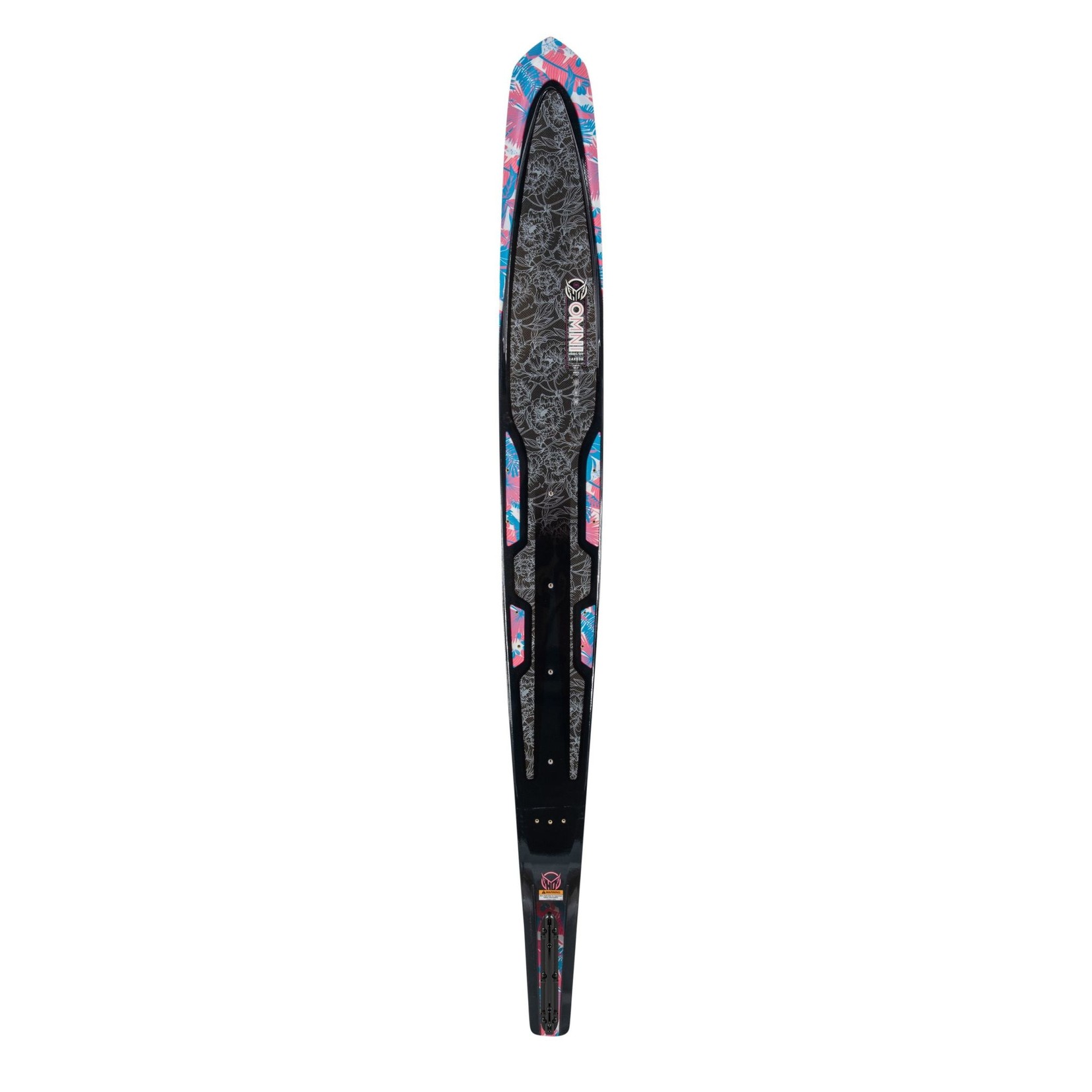 The 65" Women's Carbon Omni is a personal favorite of mine. I talk to a lot of female skiers who describe their skiing style as "aid back, unimpressive, and just lucky to get out of the water. But then I see videos of them putting turns together and I am blown away. Very rarely do women want a slalom ski that I describe as "aggressive". But the Carbon omni is all that and more. It's dependable, responsive, fun, and yes, aggressive! Being aggressive shouldn't be a turn off for waterskis. It just means that when you need to get from point A to point B quickly, the ski will do so. Because of the extra width in the shovel of the ski and the added clean edge technology in the tail, the Carbon Omni will also travel dependably and with stability. 
2022 HO 63" & 65" Future Omni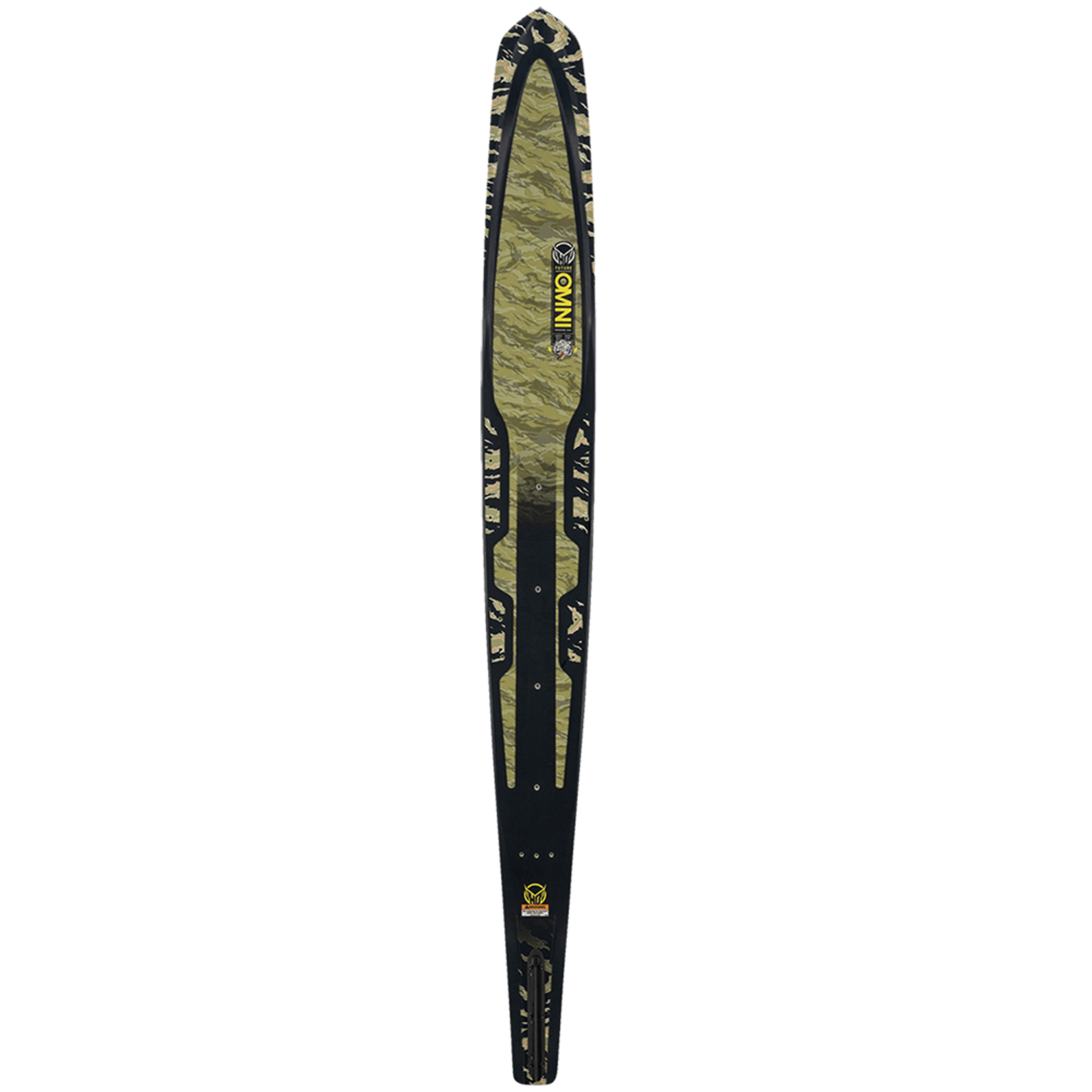 The Future Omni is one of the best kid's slalom skis available. You can think about it as a slightly smaller version of the adult omni skis that we talked about. The clean edge technology in a kids ski locks in the tail during a turn so your child won't experience "skidding" or sliding out from a turn. All the great features we talked about above apply to the Future Omni. It's an adult ski wrapped in a kid's package pricing bundle. And it's on sale.
Want to learn more? 
Call us with questions at 207-693-3867. The store is seasonal but we sure are not. Someone will answer the phone year round to help inform your next summer purchase. Shoot us an email at [email protected]. We have boots available also for all three of these slalom skis. Just let us know your foot size. Follow us on Instagram and like us on Facebook. Subscribe to our YouTube channel for more watersports content! 
Talk soon.